Hello, darlings♥
While I was busy promoting Pinku! Project concert, one of the Dreaming Youth girl, Yuka, had her own live concert at Natsucon 2011~!! I'm so proud of her. It's not easy to sing more than 10 songs in a row by yourself and dancing at the same time, too!! She was like a pro and though I couldn't be there myself, I'm sure she made all the audiences smile♥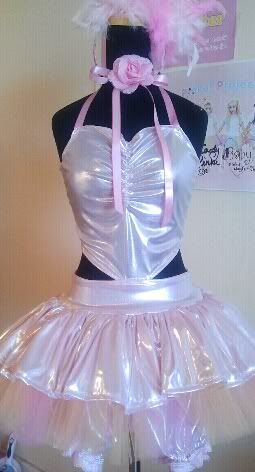 Pinkly Ever After did one of her stage outfits this time. Her concert is themed for summer and she wanted something that looks tropical, so I used pink and orange tulle with sparkling pink knit. This is designed for Yuka specifically so it's a bit toned down than usual P.E.A. stuff but I think she stand out enough in the spot light on stage with all the lights reflected from the outfut~!!
Here's a little video of Yuka's performance♥
Published with Blogger-droid v1.7.4
I can name endlessly what I love about Yuka, but her charisma on stage is definitely one of the charms. She is a sweet little sister and yet she is mature enough to lead hundreds of people on stage~~!!
I feel really lucky to know Yuka, and Pinkly Ever After is really proud to support her. Let's all enjoy the time Yuka is stil near us because God knows she will soon be where she belongs, Akihabara!!!
Lots of Love,
Robin Joobin