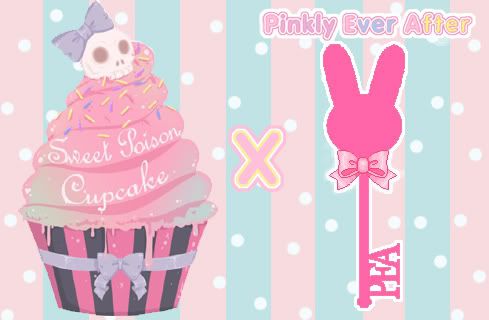 Hello, darlings~!!
It has been decided that Pinkly Ever After will be collaborating with Sweet Poison Cupcake~!! Sweet Poison Cupcake is a New York based accesorry brand that sells hand made sweet accessories at the art shows and anime conventions near NY. They also sell cute fairy-kei clothing that goes well with their hand made sweets rings and sweets decoden.
Pinkly Ever After's Pastel Milky Way One-piece is the initial inspiration for both designers at PEA and SPC. Very limited quantity of both clothing and accessories will be sold at AN for this collaboration. Sweet Poison Cupcake sells only at the trade shows in the states so through this collaboration with Pinkly Ever After, Sweet Poison Cupcake fans in Canada can enjoy their creations without going to NY~!! > _<
If you want to see more of Sweet Poison Cupcake, please visit their website at http://www.sweetpoisoncupcake.com
It's still under construction, so maybe check back with them soon~?
Lots of Love,
Robin JooBin